Our Company
At Billtrader we hate the phrase "it's just business". For us, business is personal.
Our DNA
In 1969 Computer Patent Annuities was founded by a group of patent attorneys who sought a better solution for paying patent annuities. Today CPA Global is a billion-dollar company and the largest IP services company in the world. Billtrader has a similar DNA - sick of paying tens of thousands of dollars a year in fees to wire funds to their patent colleagues around the globe, a group of patent attorneys got together to figure out a better solution. That solution was Billtrader. To date we've received $4.2 million of investment from over 50 patent attorneys from seven of the world's top patent firms across four continents. With such broad support for the Billtrader concept we have great confidence in the future of the business.
Nigel Jennings
Chairman
Nigel Jennings is a truly international patent attorney. Having been a Partner of Kilburn & Strode, one of Europe's leading patent attorney firms, for over 30 years, and an avid traveller, there are few people in the industry who don't know Nigel. Managing IP magazine recognised Nigel as an 'IP Star' for Trade Marks in their 2014 and 2016 IP Stars guide. Nigel has also been acknowledged in The Client Choice Awards 2015 for his UK patent work, amongst many other accolades. When he heard about Billtrader, Nigel said "that's precisely the same idea I had ten years ago" and, recognising that Billtrader represented a clear solution to a long-felt industry need, Nigel immediately accepted our invitation to become Chairman of the Billtrader Board. We are delighted to have Nigel's very able assistance in shaping Billtrader's global expansion strategy. Nigel has an Honours Degree in Engineering from Cambridge, is a European Patent and Trade Mark Attorney, a former Chartered UK Patent and Trade Mark Attorney and is a member of the Chartered Institute of Patent Attorneys, The Institute of Professional Representatives before the European Patent Office, the Institute of Trade Mark Attorneys and many others.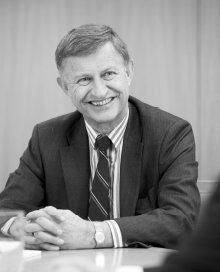 Justin Simpson
CEO and Executive Director
Billtrader's Chief Executive Officer is Justin Simpson, an Australian Patent Attorney and true IP entrepreneur. Before starting Billtrader, he founded inovia, an online patent filing company he built to be the largest foreign patent filer in the world (Managing IP Magazine, PCT Survey 2014-2015) and then sold to a listed UK company for US$29.1 million. Prior to inovia, Justin worked as a software-specialist patent attorney for Allens Linklaters and Shelston IP. He has also worked in-house as patent counsel for Kia Silverbrook, the most prolific inventor of all time. Justin has degrees in Science and Law from Sydney University, is a registered Australian Patent and Trade Marks Attorney and is listed as an inventor on over 50 patents and patent applications.
David Madigan
Non-Executive Director
David Madigan is the Executive General Manager of Griffith Hack, one of Australia's largest and most respected patent attorney firms. Prior to his appointment as EGM he was Griffith Hack's Chief Financial Officer for 13 years. In this role, he brought Griffith Hack's international currency strategy to a level of sophistication that was well-ahead of industry norms. When introduced to the Billtrader concept he immediately recognised that it had the potential to take Griffith Hack's management of currency issues to a whole new level and we are delighted to have his wisdom, vision and experience on the Billtrader board. David holds a Batchelor of Business (Accounting) from the Royal Melbourne Institute of Technology and is a member of CPA Australia. He is also a graduate of the Australian Institute of Company Directors.
Our Investors
Over 50 partners/principals from the following patent firms have together contributed over $4.2m of investment to Billtrader. We are very thankful for their role in helping to bring Billtrader's revolutionary invoice trading platform to the world. If you'd like to join this rapidly growing list of innovative patent attorneys, please get in touch via our contact page:

"Even though Griffith Hack has a sophisticated foreign currency management strategy, I expect Billtrader will provide us with significant monthly cost savings and ongoing productivity gains."
- David Madigan, CFO, Griffith Hack Patent Attorneys
"Billtrader is a worthwhile and profitable addition to our processes within the finance department."
- Adrian Lawler, Consulting Accountant, Watermark Patent Attorneys
Shelston IP needs to handle relatively large numbers of payments in foreign currencies for relatively small individual transaction amounts. Over the years we have explored solutions offered by a number of major financial service providers. However, none of these have been able to fully address our requirements.
- Jack Redfern, Principal, Shelston IP Patent Attorneys
Previous
Next
Ben Coombes
Chief Operating Officer
Ben has worked extensively with fast-growing businesses, specialising in Operations by delivering best-practice solutions in HR, finance, IT and customer delivery. As one of the early team members at inovia, the world-leading patent filing platform, Ben helped establish and run the business back-end, overseas growth and integration into new parent company RWS following the sale of the business. He is a Non-Executive Director at PractiFI, a business management platform for financial advice and superannuation with clients across Australia, USA and Europe. Ben is excited to be joining Billtrader and bringing together his interests in IP and Fintech. Ben holds a Bachelor of Computer Systems Engineering from the University of Technology, Sydney, and earned his IP stripes from a stint as a Patent Examiner at IP Australia many moons ago.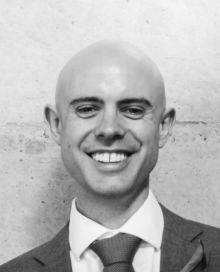 Wolfgang Danner
Director, Global Business Development
Wolfgang Danner is the Director, Global Business Development, of Billtrader Pty Ltd (www.billtrader.com), and is based in Munich. Prior to joining Billtrader, Wolfgang has worked for over 20 years in senior sales roles for such industry giants as CPA Global (Senior Account Manager), Dennemeyer (Global Head of Sales), IPAN (Global Head of Sales), inovia (Head of European Sales) and Practice Insight (General Manager). Wolfgang will be attending the AIPPI and PTMG conferences this year and can be contacted at
[email protected]
or +49 170 386 8857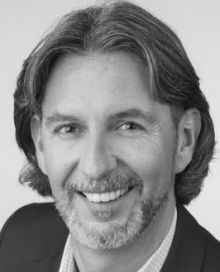 Jackie Taylor
UK Business Development Manager
In the UK, Jackie Taylor has been heading up our UK business development since 2017. Jackie has previously had significant IP experience whilst working for inovia for six years up to 2013, working with both patent attorney firms and corporate IP departments. Prior to inovia, Jackie was involved with software sales for Reuters and with financial sales for Lombard North Central. Jackie will be attending the London IP Summit in October 2018 and can be contacted on
[email protected]
or +44 7502 861 005
Brooke Rosenstein
North American Business Development Manager
Based in New Jersey, Brooke Rosenstein heads up our North American business development. Brooke has previously had significant experience with IP practitioners whilst working in inovia's New York office for many years. Prior to inovia, Brooke worked as a Legislative Director on Capitol Hill, wheeling and dealing with the best of them. Brooke will be attending the AIPLA conference in Washington, DC this year and can be contacted at
[email protected]
or +1 908 264 8313
Financial Services Licence
For extra peace of mind we've gone through the scrutiny needed to get a Financial Services Licence (AFSL No 489902) from ASIC (the Australian Securities and Investments Commission), one of the toughest regulatory bodies in the world, and are registered with AUSTRAC (Australian Transaction Reports and Analysis Centre), the anti-money laundering agency. The IP business is a trust business. We look forward to earning your trust.
© Billtrader Pty Ltd.
All rights reserved. Patent pending (PCT/AU2016/050470).
Terms & Conds
.
Privacy
.